In over 10 years of activities, before as an association and now as a foundation, openpolis carried out
a number of initiatives and activities. Our several fields of action allowed us to become experts in many areas.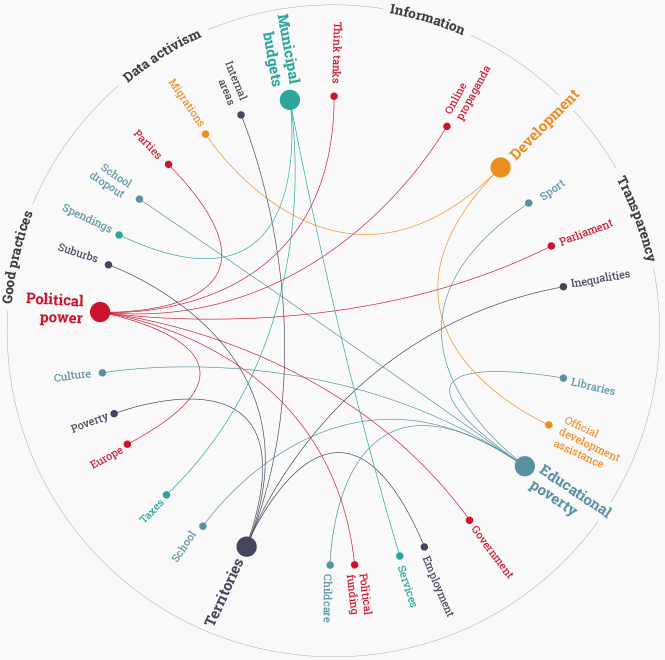 We follow the entire data-chain

Data driven web applications
Design, development, creation and management of platforms for the visualization of data. This means gathering, cleaning, managing and distributing data through a number of applications in order to make them comprehensible and explorable to citizens.
Openparlamento
Acts, motions, bills, votes and detailed information on the activity of deputies and senators of the italian parliament. The best tool for italian citizens to monitor parliamentary activities 24/7. Go to the site
Openbilanci
Every single municipal budget from the past 10 years of Italy's over 8.000 municipalities. Visualizations, charts and tools to compare cities to analyze political management and evaluate financial decisions. Go to the site
Data and investigative journalism
We use data to tell stories and carry out data journalism investigations of public interest.
Observatory on educational poverty in Italy
Local territorial data from different public sources gathered into a single database in order to generate original, relevant and data-based analyses regarding italian cities (social inequalities, educational poverty and much more). A weekly data journalism piece investigating educational poverty in Italy. In partnership with Con i bambini. Find out more
Observatory on Italy's refugee welcoming system
In partnership with ActionAid Italia we mapped the structures that currently host refugees and asylum seekers in Italy. We did this by analysing public procurements and contracts, and by quantifying the amount of public money actually being spent. Find out more
Observatory on development aid
We monitor Italy's expense on official development aid. How and where Italy's finances project to fight poverty, but also initiatives to control borders and the management of migrants and refugees. In partnership with Oxfam. Find out more
Observatory on parliamentary activity
A monthly analysis on the trends and numbers of the legislative productions of the Italian parliament. Statistics on the current situations, as well as comparisons with past governments and political majorities. In collaboration with Agi. Find out more
Data literacy
We believe in increasing public awareness and consciousness on the functioning of data in today's world, and what the use of our data by online digital companies implies.
Data culture
Articles and investigations on our society, and its relationship with data. The organization of seminars and meetings to better understand how the concept of citizenship is changing, and give tools to improve the common understanding of how data works, and the implications of its use in our world. Find out more
Political propaganda and online ads
A more widespread understanding of how online advertising works, and how it is used for political purposes. We believe in a more knowledgeable community, and in having better legislation for such a critical aspect of political campaigns and electoral periods. Find out more
Watchdog campaigns and data activism
In our ongoing analysis of political power, we carry out transparency campaigns in order to improve the comprehension of political decision and public institutions. We do this by engaging and mobilizing citizens through civic actions and data activism initiatives.
Watchdog
The importance of transparency and accountability in the relationship between citizens and institutions. We monitor political power, and we carry out campaigns to better understand its funtioning. Find out more
Access to information – Foia
We were part of team that campaigned in Italy for the approval of a Freedom of information act.
Find out more
Data-activist community
Readers as one of the many elements that are part of the openpolis foundation. The creation of community-driven journalism, which puts readers at the heart of editorial decisions and the enrichment of data.
Networks
It is important for us to share data, tools and expertise in order to create new projects with other organizations in Italy and elsewhere
The networks
European Data Journalism Network
EDJN is an independent platform for data-driven news on European affairs.Over 20 organizations from all over Europea, with content being produced in several languages and open source. Go to the site

Global Investigative Journalism Network
GIJN is the world's leading international association of investigative reporting organizations, now with 177 member organizations in 76 countries. Membership is open to nonprofits and equivalent groups that work in support of investigative journalism. Go to the site

Popolo Project
Openpolis, in partnership with the world's most important and known members of the civic hacking community, contributes to the development and management of the Popolo Project. The initiative works on the creation of common standards for the exchange and reuse of data regarding elected legislative assemblies as well as political representatives. Go to the site